The Teatro Massimo of Palermo
one of the largest theatres in Europe
The Teatro Massimo is one of the most important monumental works of the city: a masterpiece of Liberty, one of the largest opera houses in Europe, it was also a protagonist
in the cinema
.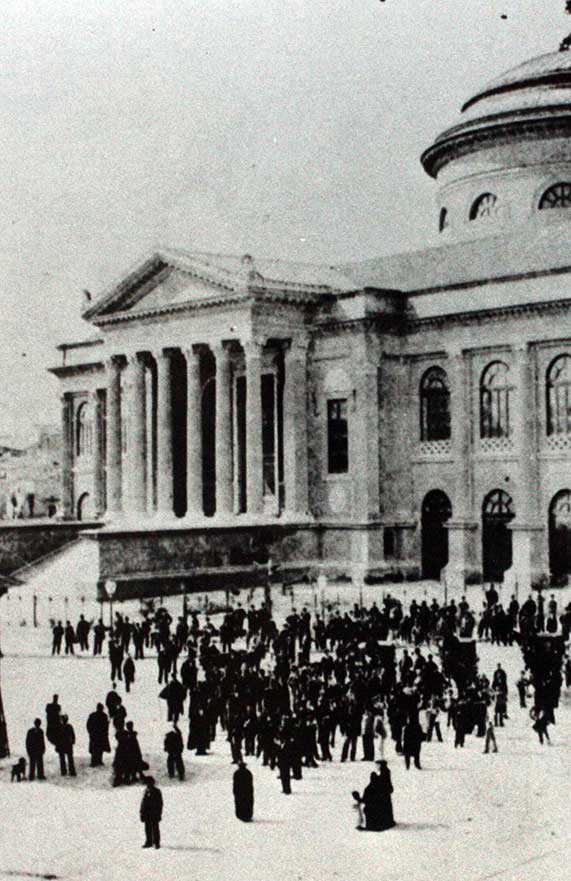 THE TEATRO MASSIMO VITTORIO EMANUELE

The Teatro Massimo in Palermo is a natural backdrop for Palazzo Sovrana. The Theatre is the largest lyric theatre building in Italy and one of the largest opera houses in Europe, third by architectural magnitude after the theatres of Paris and of Vienna, with its over 7,730 square meters in size.
Environments of representation, halls, galleries and monumental staircases surround the theatre itself, forming an architectural complex of grandiose proportions begun in 1875 by the architect Giovan Battista Basile and completed by his son Ernesto. Distinguishing features of the exterior are the columns of Roman inspiration, the bronze statues of two lions and the architrave on which a motto is engraved: «Art renews peoples and reveals their life. Scenes are the delight where you do not aim to prepare the future ".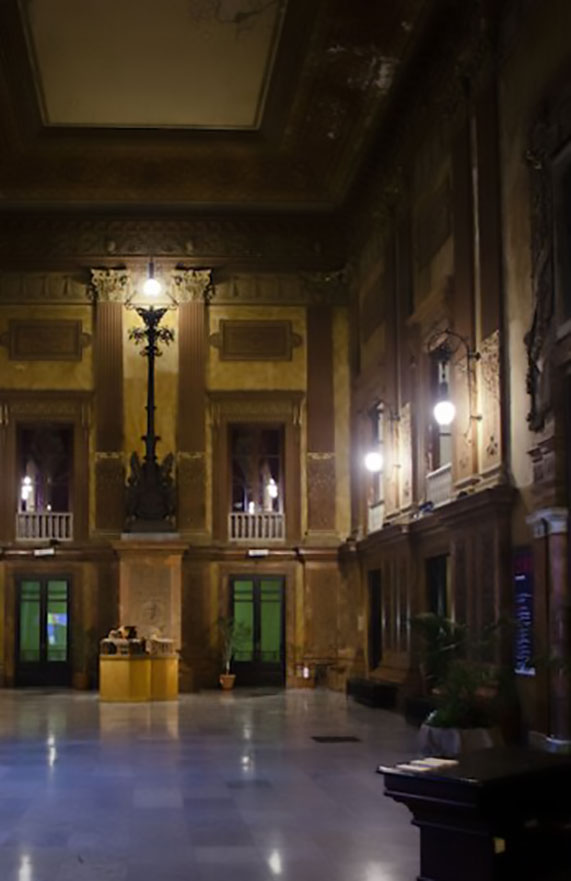 PIAZZA VERDI AND THE THEATRE

Piazza Verdi, commonly called "Piazza Massimo" is the space in front of the great Teatro Massimo of Palermo.
In addition to the theatre, in the centre of the square, there are two iron kiosks in Art Nouveau style, unique of their kind, contemporary to the theatre. Every year the Teatro Massimo presents a program of shows and events of great depth, confirming itself as one of the cultural nuclei of Palermo to which the "Caffè del Teatro Massimo" contributes. Two elegant 600 sq. M. Internal rooms, a luxuriant garden in front of the entrance of another 300 sq. M., Are the spaces that host numerous initiatives and events, such as book presentations, meetings and concerts, in close collaboration with the Teatro Massimo Foundation.
The Caffè del Teatro Massimo is open to the public, even simply to enjoy an espresso or sip an aperitif in the shadow of the great theatre of Palermo.