Welcome to Palazzo Sovrana
Luxurious apartments and suites elegantly furnished, with balconies overlooking the Teatro Massimo,
in the heart of downtown Palermo, for an exclusive holiday with all the comforts
Apartments and elegant suites
in the heart of Palermo
Welcome to Palazzo Sovrana
In the heart of the centre of Palermo, in front of the imposing and suggestive Teatro Massimo, is Palazzo Sovrana, a charming and elegant structure. A historic building, recently renovated, designed to accommodate luxurious suites and elegant apartments equipped with all comforts. Ample, modern environments, characterized by notes of style and elegance where every piece of furniture and furnishing complement is designed to guarantee the most exclusive comfort. Designed for demanding travellers, looking for environments that guarantee the same home comfort, enjoying a unique view of one of Europe's largest theatres and a Liberty masterpiece.
YOUR HOLIDAY IN PALERMO
IT STARTS FROM HERE
RESERVATION
(+39) 091.72.96.728
Active booking service h24
Direct bookings from the website for the best guaranteed rate and the best view of Palermo, in front of the Teatro Massimo!
Discover the exclusive offers, advantages and services of Palazzo Sovrana
Apartments and Suites with views of the Teatro Massimo
Get ready to discover and experience a Palermo cloaked in history and culture, starting from the most exclusive comfort. Palazzo Sovrana is about 4 minutes walk from Piazza Politeama and its theatre and Viale della Libertà, the heart of the city's shopping district. The Quattro Canti di città, the historical heart of Palermo, a UNESCO heritage site, can be reached in about 8 minutes on foot.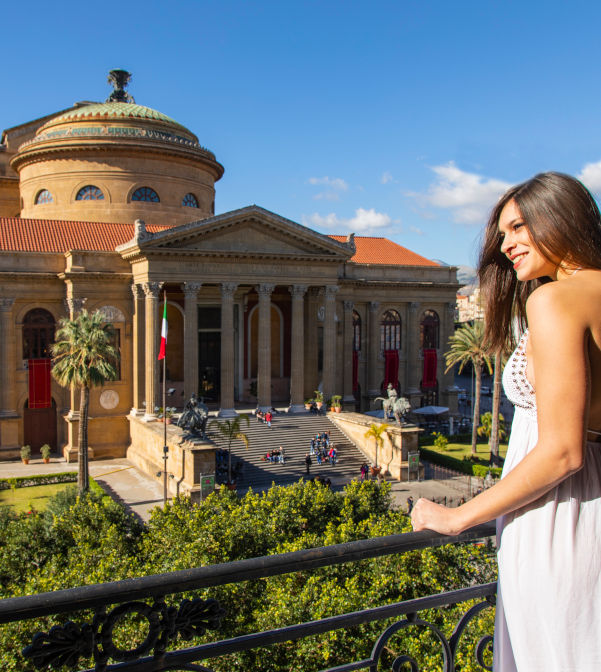 THE ART RENEWS THE PEOPLES AND REVEALS THEIR LIFE
The Teatro Massimo Vittorio Emanuele is the largest opera house in Italy, and one of the largest in Europe. The architectural complex of grandiose proportions, the construction was started in 1875 to a design by the architect Giovan Battista Basile and continued by his son Ernesto Basile, who also completed the drawings. A scenario of operas and international concerts, it was also the set of filming for the film The Godfather - Part III by Francis Ford Coppola with Al Pacino and Andy Garcia.
DISCOVERING PALERMO AND ITS MONUMENTS AND TREASURES
Palermo in the UNESCO heritage
The richness and beauty of Palermo are rooted in the stratification of dominations and cultural exchanges. A richness given by the many ethnic groups that have succeeded and merged into a unicum that is well represented by the urban fabric, its monuments and also the kitchen. For these reasons, the Arab Norman itinerary of Palermo, Cefalù and Monreale has been named a World Heritage Site: the Unesco World Heritage Committee established it in Bonn.
PALAZZO SOVRANA
EXCLUSIVE LOCATION FOR UNFORGETTABLE EVENTS
The terrace of Palazzo Sovrana is a privileged place from which you can enjoy the exclusive view of the Teatro Massimo, at such a close distance you can imagine touching it. The terrace lets you enjoy a panoramic view of the entire city: the ideal location for unforgettable cocktail parties. Palazzo Sovrana is also available with the exclusive formula to offer the entire structure as a location for unforgettable private events.

Make your holiday in Palermo unforgettable by staying at Palazzo Sovrana