HISTORIC RESIDENCE IN THE CENTRE OF PALERMO, OPPOSITE THE TEATRO MASSIMO, WITH LUXURIOUS SUITES AND SERVICED APARTMENTS AND BOUTIQUE HOTEL SERVICES
Historic home in the centre of Palermo, opposite the Teatro Massimo, with luxurious suites and serviced apartments and boutique hotel services. The palace predates the construction of the Massimo Theatre. We have photographs from 1900-1902 in which the photographer from Palermo E.Di Benedetto immortalized the façade several times while belonging to the tailoring of the F.lli Lo Cascio.
The ground floor and the first floor from 1917 became the seat of one of the Italian branches of the Calzaturificio DiVarese and remained so until 2008. Inside Palazzo Sovrana the quotes to the world of footwear are varied, from historical advertisements, from framed documents to decorative objects displayed in the corridors up to the choice of the courtesy kit in the bathrooms signed by Salvatore Ferragamo.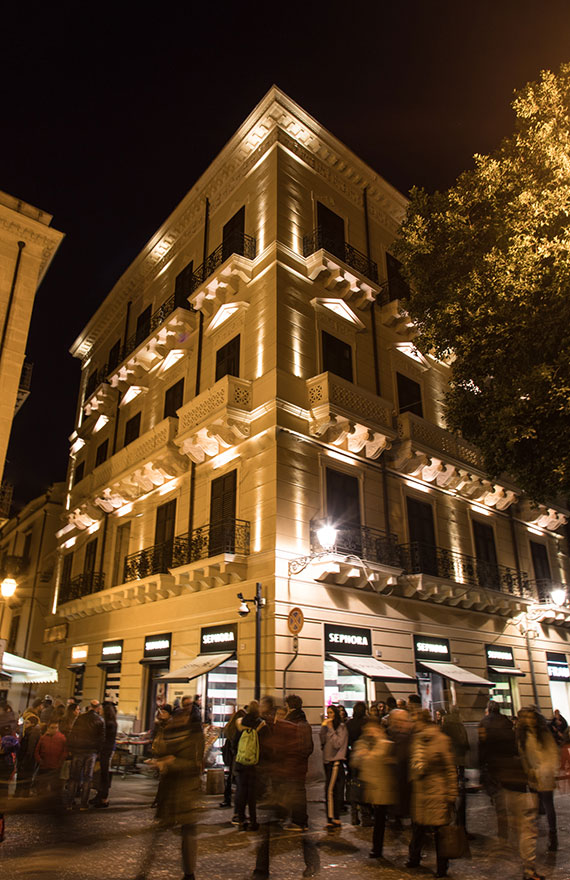 WELCOME TO
PALAZZO SOVRANA

Palazzo Sovrana is one of the historic buildings of Palermo that appears in many artistic representations and historical tables, but it has an uncertain construction date. The oldest document in possession of the property is a table of the historic Bellafiore of 1870. The table represents Palazzo Sovrana with the actual current layout. Palazzo Sovrana has always been at the centre of the city's commercial life, hosting one of the most important tailors in Palermo, then becoming the home of the historic DiVarese shoe factory until 2008. In decades, Palazzo Sovrana became the actor and backdrop of the Teatro Massimo, the most important monument of Italian opera. Today, Palazzo Sovrana is dedicated to hospitality with the formula of serviced apartments: apartments with luxury finishes and personalized services, built on guests' needs.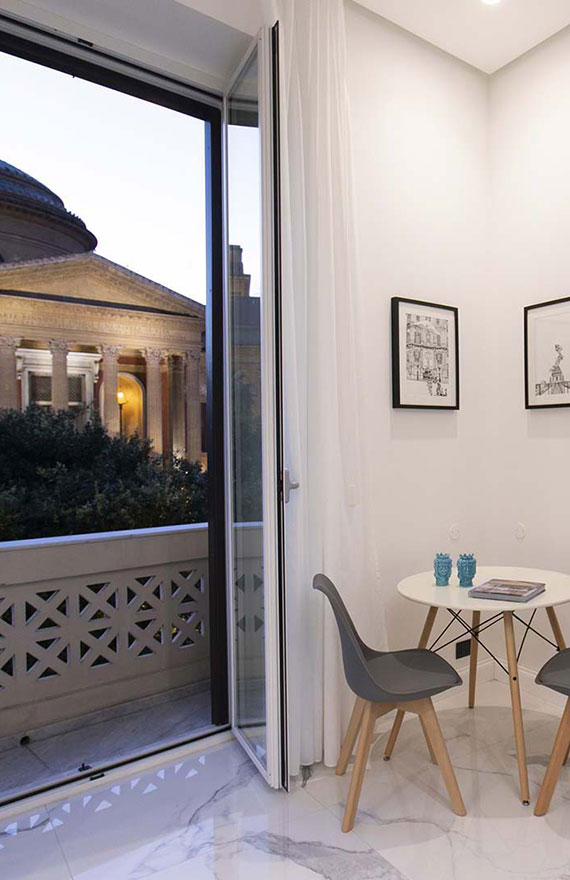 PALAZZO SOVRANA
SERVICED APARTMENTS

Today Palazzo Sovrana embodies the spirit of hospitality: the desire to offer the comfort and refinement of home and the luxury of a concierge service that takes care of every guest's need for the duration of their stay. Palazzo Sovrana offers the opportunity to stay in the centre of Palermo, in a historic dwelling characterized by the unique view of the Teatro Massimo and terraces overlooking the entire city. Four types of spacious apartments ranging from 40 to 72 square meters. Every apartment has been made with attention to every detail with furnishings designed and created exclusively by craftsmen in pure wood and embellished with works of art and modern design elements.